Darkglass Vintage Ultra V2
Effekt-Typ: Preamp
Bauart: Analog
Mono/Stereo: Mono In, Mono Out
True Bypass: Buffered Bypass
Abmessungen (BxHxT / cm): 12,0 x 5,0 x 10,7
Stromversorgung: 9 VDC, Center negative
Stromverbrauch: 30 mA
Produktionsland: Made in Finland
Lieferumfang: Netzeil optional, Batteriebetrieb nicht möglich
Auch für Gitarre geeignet: ja
mehr
weniger
Darkglass Vintage Ultra V2 · Effektgerät E-Bass
Master
Whereas the Level Knob controls the output of the overdrive section the Master volume adjusts the overall volume of the unit. Ideal for fine tuning the output on clean mode. It also serves as a DI level control.

Blend
Mixes the clean input signal with the overdriven signal. The clean signal remains at unity gain while the volume of the overdriven signal is set by the Level knob, allowing for fine control of the blend ratio.

Level
Sets the volume of the overdriven signal.

Drive
Sets the amount of saturation in the overdriven signal.

Attack Switch
Sets the amount of treble content to saturate: The "Boost" setting emphasizes the treble content extra clarity and presence. The "Flat" position leaves this register untouched while the "Cut" position will reduce the amount of high frequencies being saturated.

Grunt Switch
Sets the amount of low frequency content to saturate by selecting between three different bass boost levels before the clipping stage.

Bass
+-12 dB @ 100 Hz
Lo Mids
+-12 dB switchable 250 Hz, 500 Hz and 1 kHz
Hi Mids
+-12 dB switchable 750 Hz, 1.5 kHz and 3 kHz
Treble
+-12 dB @ 5 kHz

Direct Output
A balanced version of the ¼" output, useful for running into PA's or studio mixing consoles.


Cab Sim
Toggle the cabinet simulation on/off on the Direct Output. This switch completely bypasses all digital circuits and allows you to get a zero latency signal when needed.
mehr
weniger
Bewertungen
Zu diesem Produkt sind noch keine Kundenrezensionen vorhanden.
›
Bewerten Sie als Erste(r) dieses Produkt!
mehr
weniger
inkl. MwSt. und
Versandkosten
(A)
Auf Lager
Sofort lieferbar.
---
10105915
Artikelnummer:
---
05/2018
Im Sortiment seit:
---
Produktvideo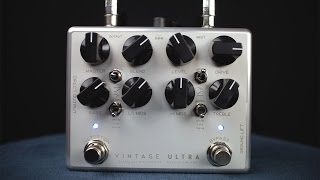 Beratung & Support
Axel Pralat
Zubehör
T-Rex Fuel Tank Classic
€ 125,00
Truetone 1 Spot Pro CS12
€ 179,00
Karl's Solderless-Wire Kit
€ 79,00
Truetone 1 Spot Pro CS7
€ 123,00
Truetone 1 Spot Power Supply 9V DC
€ 24,80
Gearhead Pedalboards Touchdown H ...
€ 8,90
Kunden, die sich diesen Artikel angesehen haben, interessierten sich auch für ...
Ähnliche Produkte finden: